Hey there, beautiful people! If you're on a hunt for silky-smooth, hair-free skin and searching for "laser hair removal near me" in Pakistan, you've come to the right place. We're introducing you to 3D Lifestyle's Trilogyice Technology, the leading name in laser hair removal in Pakistan. Join us as we explore why 3D Trilogy ice is the go-to choice for countless individuals seeking the ultimate hair-free experience.
The Magic of Laser Hair Removal
Laser hair removal is a highly sought-after beauty treatment that uses concentrated beams of light to target and destroy hair follicles beneath the skin's surface. This process inhibits hair regrowth, providing you with long-lasting smoothness. And the best part? It can be done almost anywhere on the body, making it a versatile solution for both men and women.
3D Trilogy ice —The Best Laser Hair Removal Near Me!
When it comes to laser hair removal for women (and men, too!) What sets 3D Trilogy ice apart from the rest is its advanced technology.
Foremost, the treatment is virtually painless & suitable for all skin types. It is designed to give you the smooth, hair-free skin you've always dreamed of. And offers a permanent hair removal solution that can save you time and money in the long run.
Moreover, with the option of full body laser hair removal, No more dealing with different methods for different body parts. Whether you want to target your legs, arms, back, or any other area, this ensures comprehensive & long-lasting results.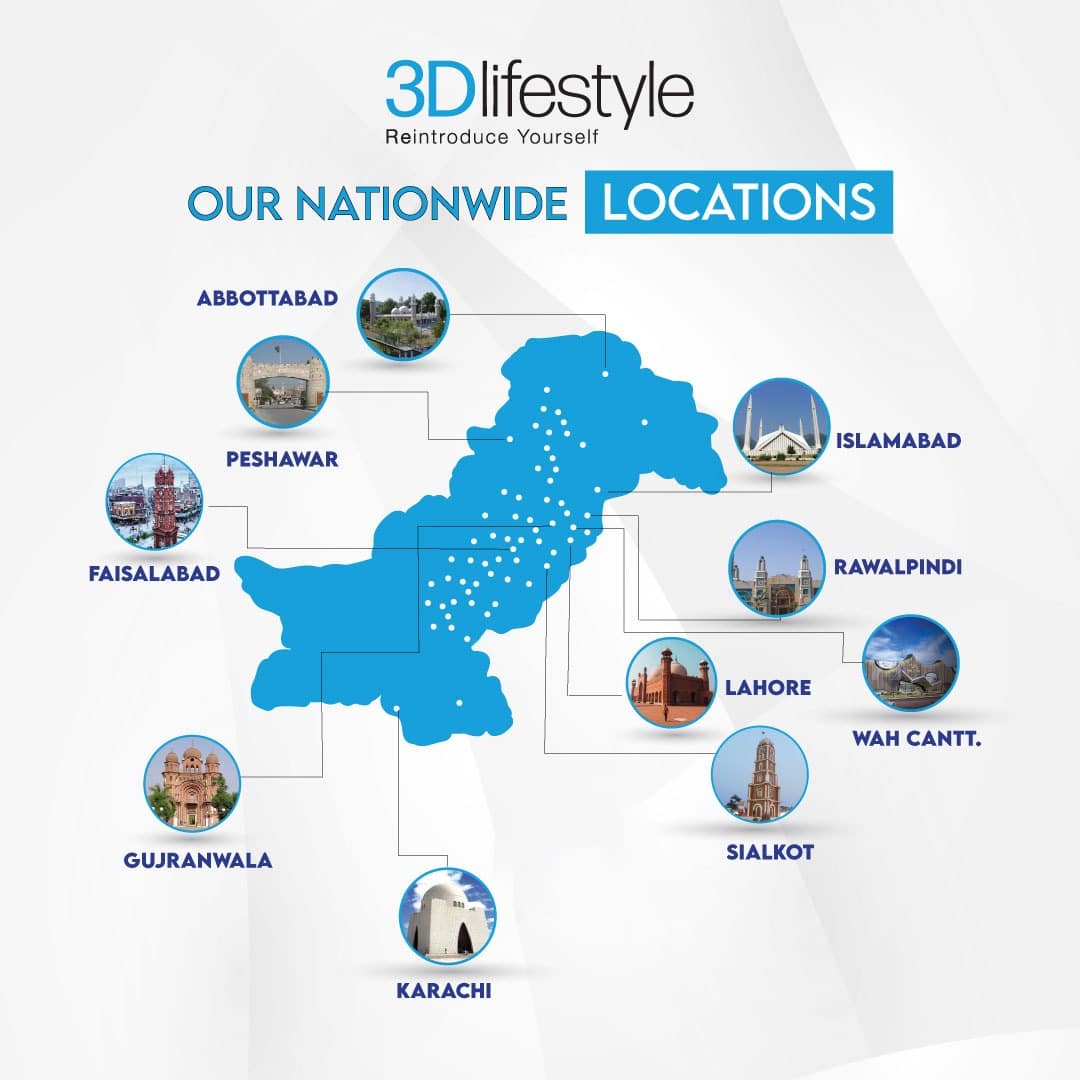 For those looking to rid themselves of facial hair, 3D Lifestyle offers facial laser hair removal that will leave your skin looking flawless. 3D Trilogy ice technology is gentle yet effective, ensuring that your facial skin remains smooth & flawless. No more painful waxing or endless tweezing sessions.
Read More: Discover The Wonders Of 3D Hair PRP: Your Solution To Hair Loss
Locating 3D TrilogyICE Laser Hair Removal Near Me
3D Trilogy ice is not just the best option. It's the top choice for those seeking a reliable and effective solution to unwanted hair. With our clinics spread throughout Pakistan, there's no need to search endlessly for "laser hair removal near me." No matter if you're in Karachi, Lahore, Islamabad, or any major city, there's a clinic conveniently located for you. Finding the nearest
3D Lifestyle Aesthetic clinic
is easy. Just visit Our Locations, locate the clinic nearest to you, &
Book Your Appointment
today.
Why Visit 3D Lifestyle for Laser Hair Removal?
One question that may be on your mind is, "Why 3D Lifestyle?" Well, here are a few compelling reasons:
A Network of Clinics: With a web of clinics spread throughout Pakistan, finding a 3D Trilogy ice center near you is a breeze. Whether you're in the bustling city of Karachi or any other part of Pakistan, you're never too far away from us.
State-of-the-Art Technology: 3D Trilogy ice boasts the latest in laser hair treatment technology, ensuring precision and safety. It's suitable for all skin types and hair colors, making it a versatile choice.
Experienced Professionals: When it comes to laser hair removal, expertise matters. We have skilled professionals who provide you a comfortable & effective treatment.
Affordable Laser Hair Removal Near Me
One of the most frequently asked questions is about the laser hair removal prices in Pakistan. We know what you might be thinking: "Is this level of advanced technology affordable?"
The answer is yes! 3D Lifestyle is known for its affordability and long-term value, we offer competitive hair laser removal prices. You're not just investing in a single session, but you're investing in a hair-free future. Means no more spending on razors, waxing, or depilatory creams.
Read More: Forever Smoot: Remove Hair Permanently At 3D Lifestyle Pakistan
Tired of the constant battle with unwanted hair? It's time to consider 3D Trilogy ice laser hair removal. With 3D Lifestyle Pakistan's widespread network of clinics and a reputation for excellence, you can trust that you're making the right choice.
Don't wait any longer to liberate yourself from the hassle of unwanted hair. Embrace the convenience, effectiveness, and long-lasting results. It's time to make smooth, hair-free skin a permanent part of your lifestyle.
So, what are you waiting for? Visit a 3D Lifestyle clinic near you today!
Where can I find 3D Lifestyle clinics for Laser Hair Removal?

We have a network of clinics spread throughout Pakistan. You can find our locations in major cities like Lahore, Islamabad, and Laser Hair Removal In Karachi. Visit our 'Our Locations' page here, for a detailed list.
How many sessions are required for permanent hair removal?

The number of sessions needed varies from person to person and depends on factors like hair color, thickness, and the treatment area. On average, you may require 6 to 8 sessions for optimal and long-lasting results.
Is Laser Hair Removal safe for all skin types?

Yes, 3D TrilogyICE Laser Hair Removal is safe for all skin types, including darker skin tones. Our advanced technology allows us to adjust the settings to match your unique skin and hair characteristics.
Do I Need to Make an Appointment in Advance?

While walk-ins may be accommodated, we recommend making an appointment in advance to ensure you receive the best service and minimize wait times.
What Services Are Offered at 3D Lifestyle Besides Laser Hair Removal?

In addition to laser hair removal, our clinics offer a range of aesthetic and cosmetic services, including skin rejuvenation, body contouring, and more. You can explore our full list of services at 3D Lifestyle.
What Can I Expect During My First Visit?

During your first visit, our experienced professionals will assess your needs, create a personalized treatment plan, explain the process of laser hair removal, answer your questions, and provide a FREE PATCH TEST.