Before talking about the different hair removal methods, tell us in the comments what is the most commonly used method for hair removal on armpits?
Armpit hair is a natural way of keeping bacteria from invading your body but the problem is, it limits your wardrobe choices. Moreover, bacteria that cause smell afterward makes it unbearable for the person standing next to you. 
Hair that grows on the underarms, bikini line(for women), chest, and back(for men) are thicker than the hair that appears on your head. These areas are sensitive and that's why special attention is required on these body parts. There are a couple of methods that you can use to (somehow) bid farewell (not permanently) to the extra underarm hair.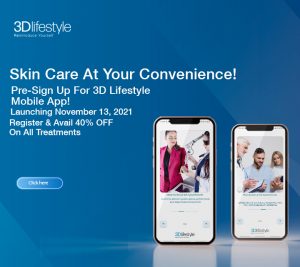 To avail of 40% OFF on your next treatments at 3D Lifestyle for six months Download the 3D Lifestyle App Now!
Shaving:
No doubt one of the quickest methods of removing unwanted hair is Shaving. All you have to do is grab a razor and remove all the hair without wasting any time.
Pros: Quick, Easy & Painless
Cons: Post-shave irritation, ingrown bumps, Redness, & Speedy growth of hair.
Waxing:
According to some people, one of the most convenient ways of removing extra hair is waxing (is it?). Some people do it at home while some visit salons to get it done. Waxing at home requires some level of expertise.
Pros: Long Lasting than Razor, 
Cons: Irritation, Waxburn, ingrown bumps, & painful. 
Depilatory or Hair Removal Creams:
In case you don't know, depilatory creams are used to dissolve the hair on the skin. It's the most painless way of removing extra hair but it comes with a cost. The chemicals that can dissolve your hair, just imagine what they can do to your skin?
Pros: Painless and easy to use
Cons: Chemical burns, Irritation, skin allergy, & skin damage.
Time For Fun Fact:
Asian Hair tends to grow faster than all ethnic groups.
Laser Hair Removal:
The safest method of removing body hair, laser, is here to save your day. It reduces your hair permanently. Pakistan's best Aesthetic Clinic 3D Lifestyle has treatment doctors that give safe laser hair removal to your sensitive body parts like armpits.
Pros: Safe, Painless, No downtime, & No side effects.
Cons: It's costly for some but 3D Lifestyle has the answer to this problem too.
3D Lifestyle offers multiple deals for full body hair removal. In this way, you can reduce unwanted hair from sensitive body parts as well. These offers are economical & cost-effective
For FREE CONSULTATION ring at 021 111 232 889 or Click Here.