Typical Facials Were Just the Beginning | TRY 3D HydraPlus FACIAL NOW!
If you've felt like your skin is going through dryness, hyperpigmentation or any issue, it might be the time to consider 3D HydraPlus Facial. This magical 30 to 60 minutes treatment tackles everything from dehydration to discoloration, aging to acne, and uneven skin texture.
Ready to book? We're here to provide you with all the information you need before making any decisions. This includes details on cost, steps involved, expected downtime, and results.
What HydraFacials Generally Do?
For individuals who frequently use makeup or are seeking a more thorough cleansing experience, HydraFacials offer an excellent solution for purifying the skin. These treatments effectively remove accumulated sebum and impurities that can accumulate on the skin's surface.
By promoting the gentle opening and clearing of pores, Hydra Facials incorporate an exfoliation technique that targets the outer layer of dead skin cells. Consequently, the skin is left with a new radiance.
Following procedures like Hydra Facials or other exfoliating treatments, the skin becomes more receptive to the benefits of skincare products, allowing for deeper penetration and enhanced results.
Of all HydraFacials, our 3D HydraPlus Facial offers a multi-dimensional approach to skin rejuvenation for unmatched radiance and revitalization.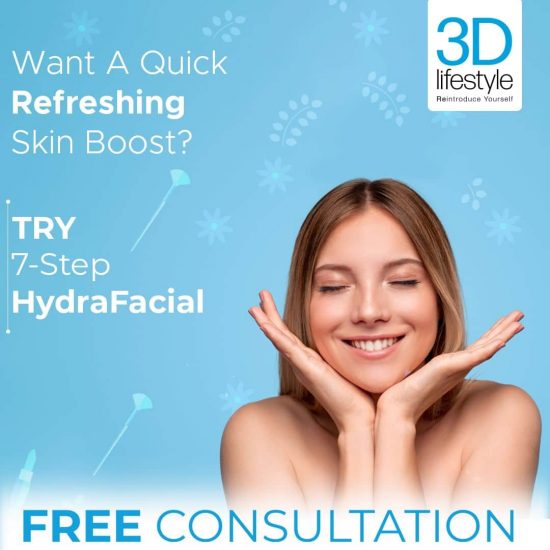 Turn Up the Wow with 3D HydraPlus Now!
It is way better than typical facials which you get at a Salon! Yes, you heard it right!
All the steps cleanse, hydrate, detoxify and scrub away all the dead skin and dirt in the facial skin.
The 11 steps involved in this process which make it different from ordinary hydrafacials in the market are;
Skin cleansers remove dirt, sebum oil and dead skin cells without damaging or irritating your skin. 
It minimizes discoloration and brown spots & reduces appearance of fine lines & wrinkles. 
It exfoliates skin to remove dead and dry skin cells to promote a smoother and even glowy tone.
It moisturizes, protects and refreshes the skin.
Combats puffiness & swelling, promotes cellular renewal & increases blood circulation. 
It is the process of removing dead skin cells from the outer layer of your skin. 
Tightens sagging and loose skin that needs reduced fat accumulation under dermis. 
Step 08- Mask Application
A soothing and hydrating mask is applied to the skin, allowing the serums to penetrate even deeper. The mask also provides additional nourishment and relaxation.
This step involves the precise application of customized serums into the skin using the HydraFacial machine. These serums are formulated to address specific skin concerns and deliver targeted benefits. 
After the serum infusion step, a cold hammer is often used to provide a soothing and calming effect to the skin. The cold hammer emits a cooling sensation that helps to constrict blood vessels, reduce redness, and minimize any potential irritation. 
Step 11- Vitamin C Application
Vitamin C-rich serum is applied after the cold hammer therapy. Vitamin C is a potent antioxidant that helps to brighten the skin, promote collagen production, and protect against environmental damage. 
If you're curious about whether a 3D HydraPlus Facial is worth the hype, read on to learn more about the potential benefits, the possible side effects, and how it compares to similar treatments.
Is it Safe For All Skin Types?
Before getting a 3D HydraPlus Facial, it's important to note that it's generally safe for most skin types. However, if you have an active rash, sunburn, or rosacea, it's best to avoid the treatment as it may cause further damage or flare-ups. Your safety and wellbeing are our top priority, so we want to ensure you have all the information you need before making any decisions.
What Are 3D HydraPlus Facial Benefits?
3D HydraPlus Facial treatment  gives revitalized complexion with enhanced hydration, radiance, and clarity. This advanced treatment combats the signs of aging by diminishing fine lines, boosting firmness, and promoting an even skin tone. Consult with a professional or your dermatologist before proceeding to ensure your safety and wellbeing.
Stride From HydraPlus Facial to Red Carpet Collagen Facial
Pretty Much on Just a Single Page Now!
Our advanced 3D HydraPlus Facial takes center stage, offering a multi-dimensional rejuvenation experience. Let's delve into how our other different facials work. The 3D HydraFresh Facial, Red Carpet Collagen Facial, Ultra Glow Facial and 3D Clever Facial, harmoniously complement each other to enhance your skincare journey.
3D HydraFresh Facial - 7-Steps to Smoothened Skin
Our Hydrafresh Facial treatment, a delightful 7-Step Process, provides a quick yet effective pick-me-up for your skin. It perfectly complements our 3D HydraPlus Facial by offering a streamlined approach to exfoliation, cleansing, and hydration in few minutes.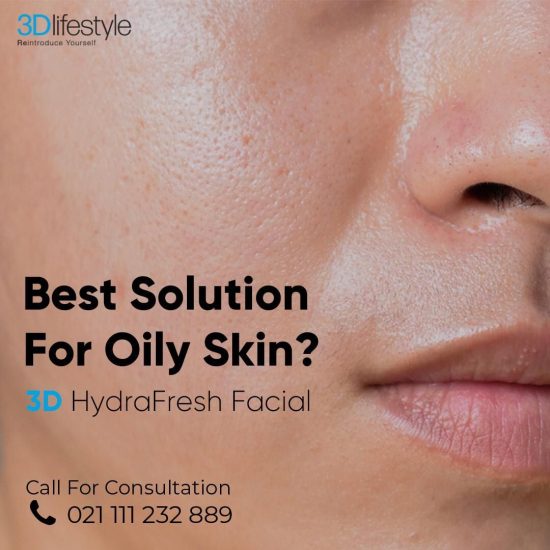 Red Carpet Collagen Facial - Your Glamour Unveiled
When special occasions beckon, our Red Carpet Collagen Facial takes the spotlight. This treatment brings a touch of glamor to your skincare routine, targeting fine lines and promoting a plump, youthful appearance.
3D Clever Facial - Smart Solution for Your Skin
3D Clever Facial is a testament to tailored skincare solutions. It addresses specific concerns like acne, pigmentation, or sensitivity, making it a versatile choice. Seamlessly integrate it into your skincare regimen alongside the 3D HydraPlus Facial for a holistic approach to long-term skin health.
Ultra Glow Facial - The Enhanced Rich Glow
Experience the epitome of luminosity with our Ultra Glow Facial. This specialized treatment combines cutting-edge techniques to exfoliate, nourish, and illuminate your skin. While keeping a focus on enhancing your natural radiance.
Hydra Brasion - The Hydration-Exfoliation Fusion
Step into the world of Hydra Brasion, where the dual benefits of hydration and exfoliation merge to transform your complexion. This treatment gently exfoliates the skin's surface while simultaneously infusing it with nourishing serums.
HydraFacial Price in Pakistan?
Prices can fluctuate based on your location, the expertise of the Aesthetic Consultant, and the array of treatment choices available at the clinic. Session durations usually span from 30 to 90 minutes, while extended treatments often offer supplementary enhancements that can impact the overall cost.
Were you also searching for the best collagen-boosting facial treatment near me? Here you go!
All the above amazing facials allow you to create a personalized skin care journey. Whether you're seeking a comprehensive transformation, a quick rejuvenation or red carpet allure, our range of facials ensures there's something for everyone. Elevate your skincare experience by combining these treatments and unlock a radiant, healthy complexion like never before.
Get the Dream Look
You Deserve it!
Book FREE Consultation Today!