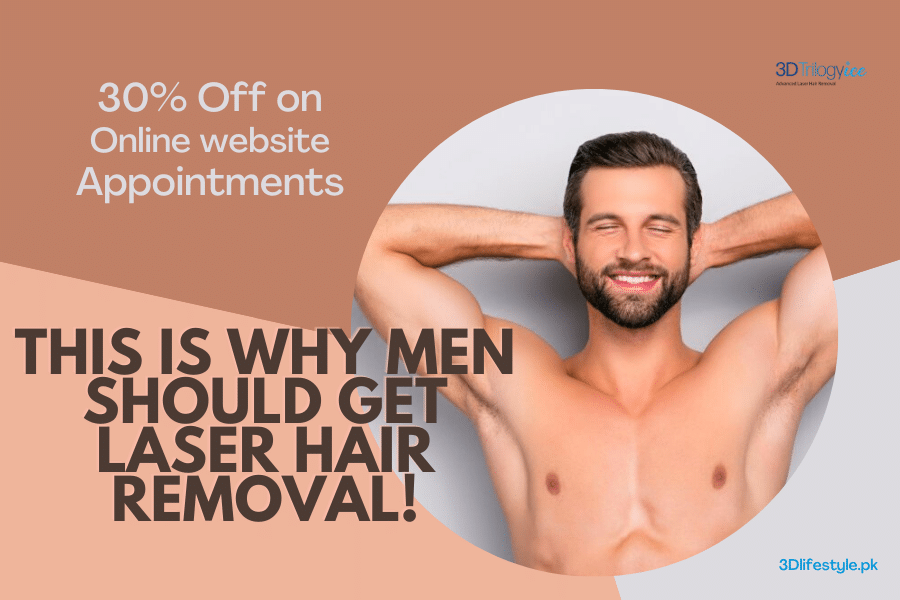 MEN OUT THERE! – This blog is for you! Mostly in South Asian countries, there is a major stereotype that men don't need any skincare treatment. Even if they follow any skin or body care routine, it's pretty basic or entirely nonexistent. When it comes to men, rough and rugged looks are mostly valued. That's why men are not usually taught to take care of their skin. Let's break this stereotype and try to know why Laser Hair Removal is important for men too.
Ever noticed the pain that happens after you use a razor? Sometimes pimples start to appear. If not pimples, then itching makes you regret the decision of using a  razor. We are sure that this might have happened to you. Most of you must be having unibrows. Plucking the hair from between those eyebrows after every week must be a tiresome job. Isn't it?
Men with beards! How tough must it be to take care of your facial hair? Shaping the beard line every now and then is not an easy task to do. If you are a person who uses a razor regularly either to shave the entire face or just shaping up the beard, you must know the concept of "ingrown bumps". 
They are the pimples that start to appear when your hair is not able to get out of skin. Life is already tough for a lot of you. You deserve to take care of yourself too. If you want to get rid of any skin problem or simply want to pamper yourself, visit your nearest aesthetic clinic. Get the best solutions for your skin and body. 
Best way to get rid of razor and tweezer pain? Get Laser Hair Removal. This hair removal method diminishes the hair follicles of the targeted area. Don't worry, this method doesn't affect other body parts. 
Laser Hair Removal for men at 3D Lifestyle
Why go far, when you can get laser hair removal at the best aesthetic clinic, 3D Lifestyle. You can get professional Laser hair removal for men and women here. Whether you want to shape your beard or want to get hair reduced from the whole body, Aesthetic Consultants & Treatment Doctors at 3D Lifestyle will be giving the best services to you.
UPTO 30% OFF On All Treatments Terms Apply* (Appointments On Website Only)  
Time to BOOK FREE CONSULTATION & FREE PATCH TEST of safest Laser @ 3D.