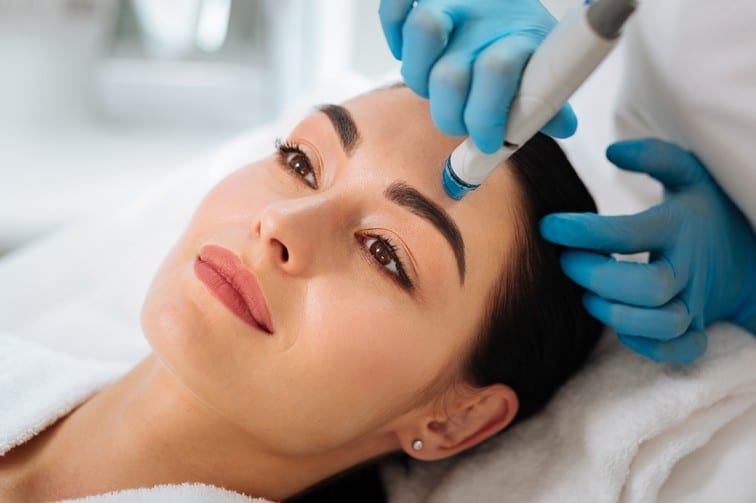 Summers are at their peak and we all know that humid hot temperatures bring oily skin which leads us to uninvited acne breakouts and sweaty skin, to be more straightforward it's the oil that floats on our skin. As we know, it is hard to escape from Mr. Sunny, waiting outside in the sky all day long.
Everyone loves that one ray of sun to put a spark on our face to get that perfect sun-kissed picture. But in reality, no one wants that extra love from Mr. Sunny, especially when it's 47C degrees in major cities of Pakistan. Staying in the sun can be problematic because the humidity and temperature can trigger sebaceous glands which produce more oil.
Oily skin and summers are not a very good combination. Do you agree? A Huge YES to this from our side. Let us share something very interesting with you! Upgrading your skincare products is not a solution to beat this summer heat. Therefore, we have the best plan for you, 3D Lifestyle's exclusive Hydra Facials.
Tips to Take Care of Oily Skin in Summer
Taking care of your skin in summer is as important as it is in winter. Because oily skin makes your pores clogged and enlarged which results in the accumulation of dead skin cells and acne breaks out.
Apply a light moisturizer – it is very important in summers too.
Don't wash your face too often
Use blotting paper
Exfoliating your skin cautiously
Apply Sunscreen
Watch what you eat and drink
Oily skin can be a blessing in disguise! Oily skin can prevent early signs of aging. But excessive production of sebum can cause a breakout. If you are the one who is struggling with oily skin during summer. Don't worry; we are always here to help you. Let's tackle your oily skin concerns to flaunt the beautiful-looking skin this season.
Ideal Summer Skincare – 3D Hydra Facials
3D Hydra Facials are medical-grade facial treatments that help you to cleanse and hydrate skin without any side effects or irritation. Our ultimate HydraFacials are not like ordinary ones. They resurface, exfoliate, and hydrate your skin completely. That's not it, they also treat multiple skin concerns like:
Treating oily skin
Treat acne issues
Improve vibrancy of skin tone
Detoxifies skin
Unclog clogged pores
Reduce wrinkles and fines lines
The addition of Hydra Facial should be your ultimate skincare goal this mango season.
Get FREE skincare consultation with the best Aesthetic Consultants at Pakistan's Leading Medical Aesthetic Brand, 3D Lifestyle
To get an appointment, visit 3D Lifestyle today.