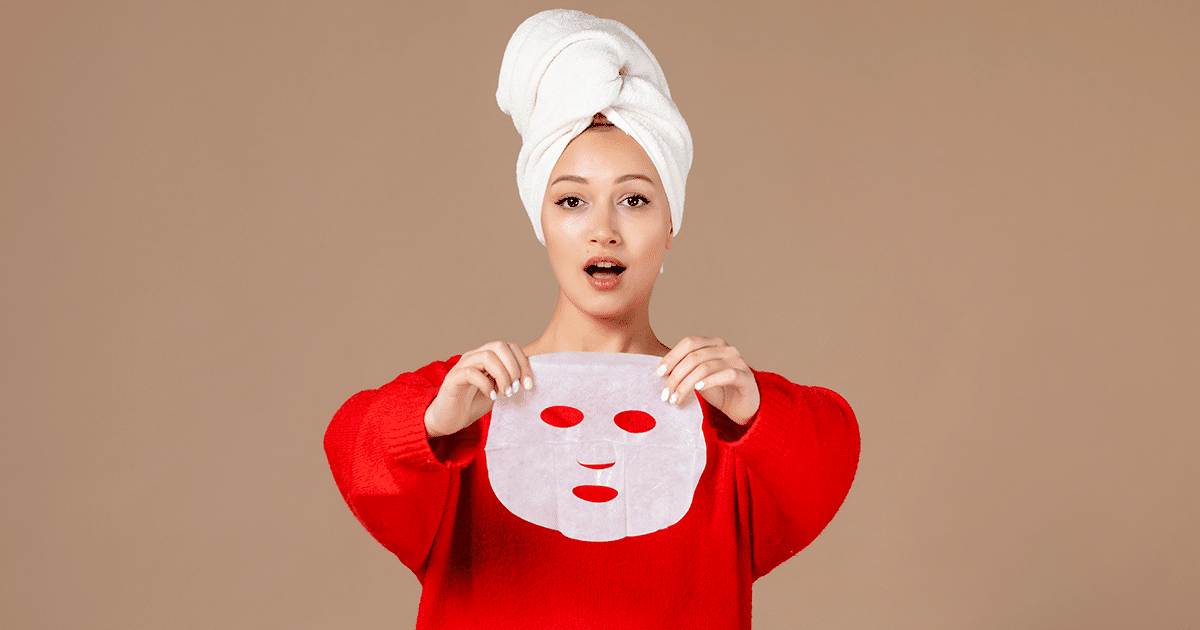 It's time to ditch those sheet masks because we've got the perfect hack for you! Keep reading and you'll know soon. 
Sheet masks aren't all they're cracked up to be. They can leave skin feeling dry, cause breakouts, and are typically full of synthetic ingredients that can be harsh on your skin. Furthermore, they are covered in plastic or often contain plastic which is detrimental to the environment. To protect your skin and the environment, it's best to steer clear of sheet masks!
Skin Exfoliation
Skin exfoliation is a great way to keep your skin looking its best and freshest. Exfoliating can help get rid of dead skin cells, dirt, oil, and other buildup from your pores. This helps clear your complexion and can even reduce wrinkles, fine lines, and discoloration.
Exfoliating your skin regularly is essential for removing dead skin cells and other impurities that can clog pores and make your skin look dull. With regular exfoliation, you'll be left with brighter, smoother skin. Not only will it improve your overall complexion, but it can also help clear up any acne or breakouts you might be experiencing. 
Making exfoliation part of your regular skincare routine is sure to give you some major results. Not just by clearing away dirt and debris, but also by helping products absorb better into the deeper layers of your skin for added hydration.
There are several ways to exfoliate, such as using chemical or physical exfoliation. 
Chemical exfoliants work by removing the uppermost layer of skin with an acid solution. 
Physical exfoliants are made up of abrasive materials such as sugar or pumice. 
When deciding which method is best for you, consider your skin type and condition. If your skin tends to be sensitive, then physical exfoliation may be too harsh; whereas if you have oilier skin, chemical exfoliants may work better.
How To Use Exfoliant?
No matter what kind of exfoliant you choose to use, be sure to start slowly. Use gentle pressure when scrubbing and limit your treatments to once or twice a week at most, over-exfoliating can actually irritate the skin further! After cleansing and patting dry your face, gently massage the exfoliant in circular motions for one minute before rinsing off with warm water. Make sure to apply a moisturizer afterward in order to protect and hydrate the newly exposed layers of skin cells.
By following this simple hack of exfoliating regularly, you'll soon be on your way toward brighter, smoother skin that looks and feels incredible!
3D Medical Grade Facials | Quick Exfoliation and Intense Hydration! 
One way to get even more out of your exfoliation is to try deep exfoliation facial treatments. 3D Medical Grade Facials involve applying layers of powerful skincare steps. There are several types available, such as 3D HydraFresh, 3D HydraPlus, 3D UltraGlow, and 3D Red Carpet Collagen Facial, that can all provide deep cleansing and intense hydration while stimulating cell regeneration and collagen production. This helps make skin appear brighter and younger-looking with regular use.
So don't be afraid to add some extra steps to your skincare routine! You won't regret giving your skin the TLC it needs when you see the amazing results that 3D Medical Grade Facials can give you!
Fill in the form to book one for yourself!