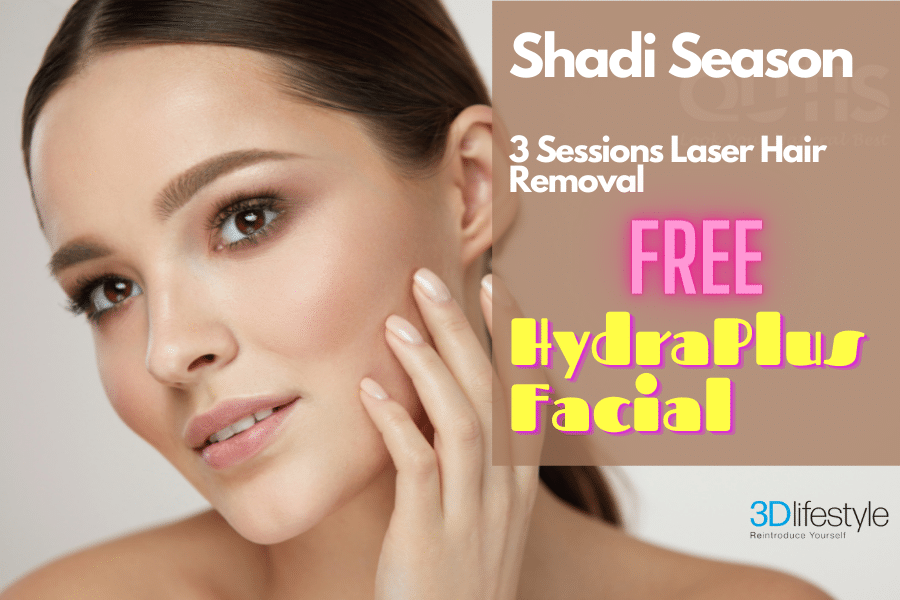 You must be going through all the Rasams and Shopping before your big day and why not, these moments are special for you and your family. Now it's time to pamper your skin so that you can slay at your wedding. Every bride and groom-to-be wants to take all the imperfections out of their skin, whether it's hair removal or the impurities(dirt, acne, etc). They want to make their wedding day a momentous one.
Beauty salons give you an instant makeover but this wedding season you should restore the beauty of your body and skin permanently. Rejuvenate your body and face in such a way that you can glow better than all the lights shining at your wedding place. Makeup may work as an instant trick but natural glow and smoothness are way better than any other foundation available on the market.
Laser Hair Removal With Free HydraPlus Facial at 3D Lifestyle
You can plan your marriage ceremonies, while 3D Lifestyle will help you to make your skin better. Before getting married, a lot of brides get full body wax sessions and many of them end up with bumps, burns, redness, and a lot of other problems. If you want to enjoy your wedding to the fullest then shift to laser treatment. Lasers don't have any side effects. Whether you want laser hair removal for face or full body hair removal, 3D Lifestyle is the best option for you. 
For this wedding season, 3D Lifestyle has introduced pretty good deals for you to grab. On purchase of 3 sessions of Full Body Laser Hair Removal, you can get 11 Step 3D HydraPlus Facial for FREE. Getting a facial before your big day is a must. You can try all the home remedies especially the ubtan (which is not even available in its pure form now) but facials like Hydra Facial and HydraPlus works like magic on your facial skin.
 (Read: Getting 3D Hydra Facial – What To Expect?)
 Makeup no doubt looks better on clear and hydrated skin. You can (literally) Reintroduce yourself with 3D Lifestyle.  
To double the fun, 3D Lifestyle is Offering FREE LASER PATCH TEST with FREE CONSULTATION. If you are doubtful before getting Laser Treatment, visit 3D Lifestyle. With a free patch test, you can believe that laser hair removal treatment is truly the safest in the market. This offer is for a LIMITED TIME ONLY.
BOOK FREE CONSULTATION by ringing at 021 111 232 889 or Click Here.