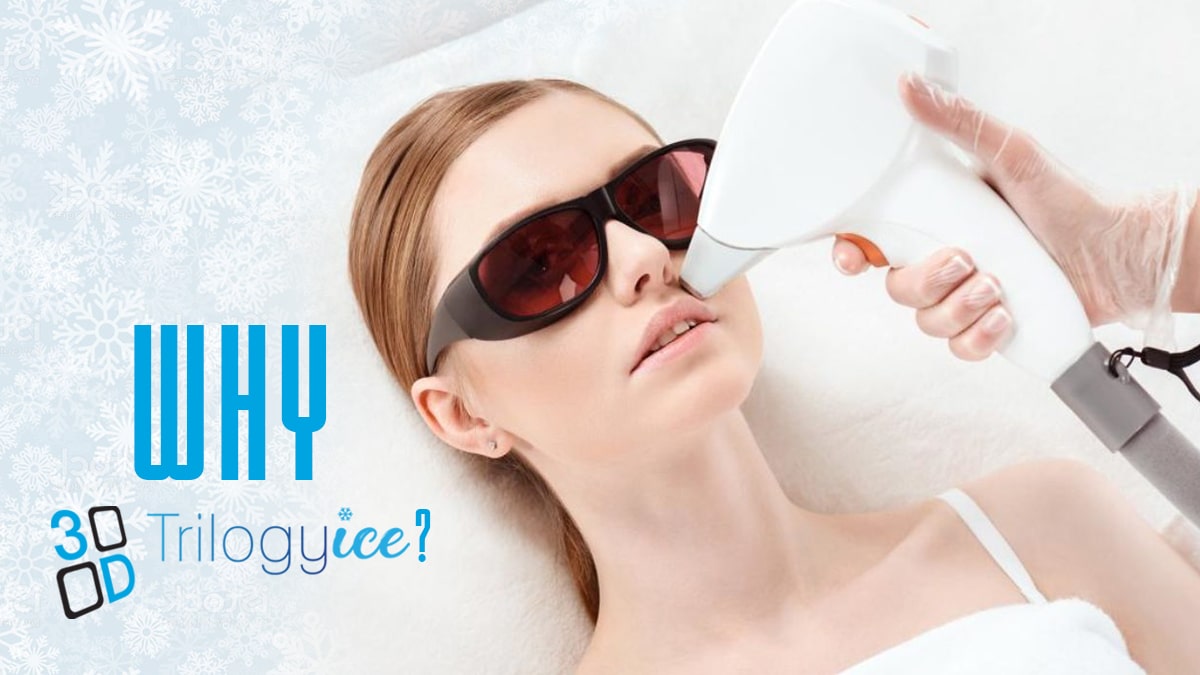 As soon as the world hit the 21st Century mark, an evolution of technological advancement began, followed by a busy daily routine in this fast paced cyber-driven era. From industrial equipment to gadgets of our daily use, every single thing has been revamped and reinvented to ease a common man's daily shenanigans. Similarly, traditional methods of hair removal were replaced by laser hair removal procedures. 
However, the credibility of laser hair removal treatments fell drastically due to the overly expensive and less efficient laser hair removal technologies in the marketplace. Amidst this, TrilogyICE stepped into the marketplace setting new benchmarks with its state-of-the-art services and hi-end technology; which was never seen before. In this article, team 3D Lifestyle will explain how TrilogyICE is not only different, but also more efficient than any other laser hair removal treatment in the marketplace. 
3 In 1 Action:
Unlike other lasers in the marketplace, TrilogyICE takes hair removal a step further by using a combination of 3 laser wavelengths i.e. Alexandrite (755mm), Diode (808mm) and YAG (1064mm). These wavelengths together penetrate deeper in the skin, and treat every single type and tone of skin there might be. From darker skin tones to lighter and from thick hair follicles to thin ones, these wavelengths have an upper hand over everything. On top of that, other lasers might result in rough or ingrown hair once they grow back, however, TrilogyICE focuses on hair growth reduction and prevents rough hair from growing back permanently. 
Enhanced Safety:
Most of the hair removing laser technologies in the marketplace these days tend to put your skin to harm. Some of these lasers might show side-effects such as burned patches of skin, irritation, rash or even skin diseases in the most fatal cases. However, TrilogyICE is a revamped technological magic, which ensures to provide you with utmost safety. It ensures that you skin does not burn, and the guaranteed no downtime policy helps you carry on with your routine. Moreover, noticeable personalities consider TrilogyICE their first choice for laser hair removal,due to the trust we have built in terms of safety we the laser offers.

No Pain & No Downtime:
TrilogyICE uses contact cooling and in-motion technology, which is not yet used by any other brand in the Pakistani marketplace. The gliding movement of the in-motion technology ensures that the laser beam is not pointed at a certain body area for too long, and the laser is dispersed for maximum effect. On the other hand, contact cooling eradicates any chances of burns, itchiness or irritation; instead, it makes you feel like you are taking a cold message.
Time Saving & Cost Effective:
The time of a single treatment session depends on the area being treated. For example, an area as large as your back or legs can be covered in no more than 15-20 minutes, while the whole body treatment is as quick as 60 to 90 minutes maximum. This helps you save a lot of time, especially if you are a 9 to 5 desk job slave. Moreover, any other laser will almost charge you over 200,000 Rs for 6 sessions of a full-body treatment – whereas, TrilogyICE offers the same in only 99,000 Rs. Now that's a money spinner!
Treats All Body Parts:
Last but not the least, TrilogyICE does not have any restrictions in it's variety of body parts that it treats. There are dozens of hair removal lasers out there which might not be equally effective over all body parts. However, TrilogyICE exceeds this restriction and can provide you with an effective treatment over any body part you might want treated. 
It is clear that TrilogyICE is an FDA approved technology, which provides you with not only a pain-free and safe treatment, but does not burn a hole in your wallet as well. It has been tried, tested and endorsed by some top personnel of Pakistan's showbiz industry, and it is safe to say that the limelight TrilogyICE gets is justified. However, we do not ask our valued customers to believe our word of mouth. Make sure to book a FREE consultation once the lock down is over, and experience it yourself!