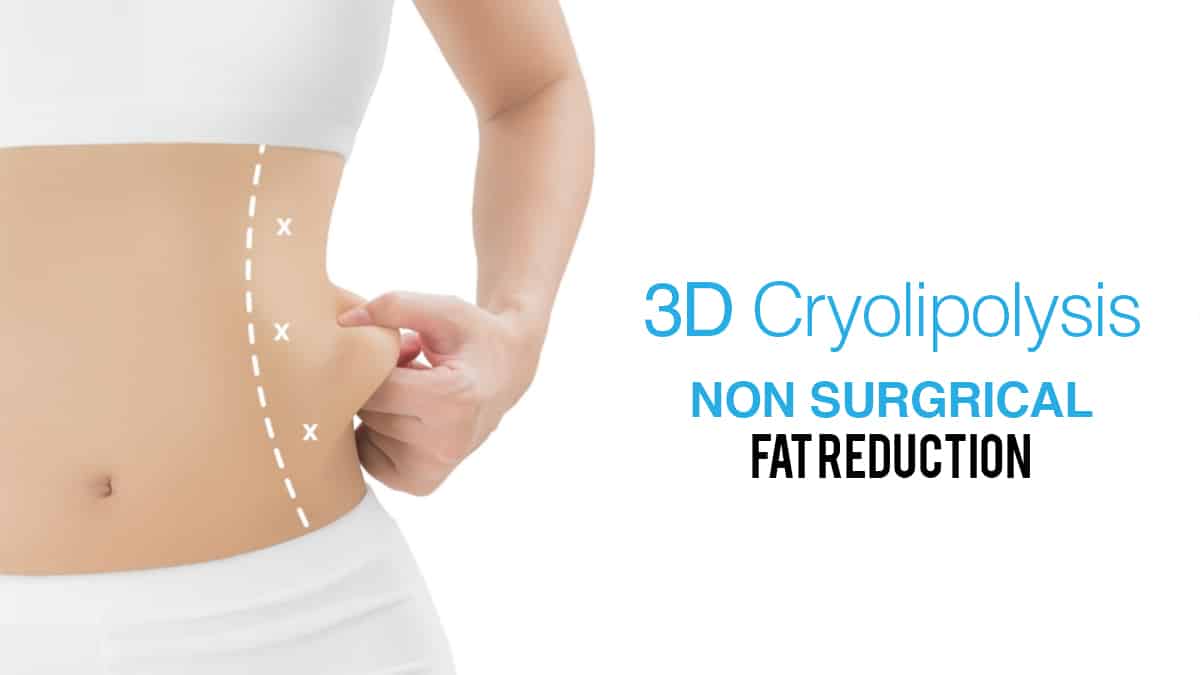 Have you ever heard about freezing your fat away,  rather than burning it? Did you know that instead of sweating your heart out on a gym mat, you could just freeze and get rid of those extra unwanted layers of fat? 3D Cryolipolysis is the magic you have always been waiting for. More commonly known in the marketplace as the 'fat freezing' aesthetic procedure, this non-surgical fat reduction treatment is one of the best choices you have to get back in shape. 
We at 3D Lifestyle understand how hectic your life can get, especially if you are married, if you are a mother, working a desk job or if you own a business. In this long, tiring and rather unpleasant routine, you need a quick, easy and safe way to lose those extra pounds you might have put on, because of the everyday 'out and about' lunch you have at your office. In this article, we will familiarize you with what 3D Cryolipolysis is, how it works and why it is beneficial.
How Cryolipolysis Works?
Quite a few years ago, the scientists at Harvard University designed an experiment to see the effect of cold on fat cells. Their sample were a couple of kids, who were given ice creams for a certain time period. The scientists noticed dimples forming in the children's cheeks, which showed that cold can target fat cells without damaging the surrounding tissue or skin. In Cryolipolysis, the temperature of the fat cells is reduced to negative and the fat cells are crystalized. After this, the fat cells break into smaller particles and are removed through the natural process of excretion.
How Does Cryolipolysis Benefit You?
Here are a few benefits of Cryolipolysis which you need to be familiar with:
As you now know, Cryolipolysis does not involve any sort of surgery, needles, cuts or medications, which means that you get to stay conscious throughout the treatments. This ensures that you do not have to take extra precautionary measures in order to protect yourself and your wound in different seasons, plus no downtime whatsoever.
Another amazing benefit of this fat freezing technique is that it does not involve any itchiness, any sort of rash or allergy, as the process to remove the fat is completed through the natural process of excretion, and allows you to easily lose fat. On top of that, the long lasting results are not time taking to achieve and you can lose upto 3 inches in 4 to 6 sessions only.
Compared To Other Treatments:
The marketplace is full of surgical procedures and techniques, which can help a person reduce fat in a number of different ways. Few of the most common procedures to lose fat is a liposuction or a tummy tuck, in which surgical methods are used in order to remove the excess layer of fat in your body. These surgical treatments and procedures are not only painful, but can also cause septic, and can cost a lot and it is extremely daunting to maintain the results you had acquired from any of these procedures. 
On the other hand, Cryolipolysis is a non-invasive technique which is virtually painless, does not leave a scar, costs less than a liposuction and provides the patient with longer lasting results. Moreover, the natural process of fat excretion helps you to lose fat for good!
Reducing your fat is not just another trick up your sleeve. It takes months or even years at times to lose fat; instead of weight. Your body fat needs to be burned or in this case, frozen till the last thread. However, for people with a airtight schedule, exercising twice a day or eating a very strict diet routine may not be an easy task. In this case, rather than building on the bad news and adding another chore to the list, preferring 3D Cryolipolysis is a much better option – don't you think?