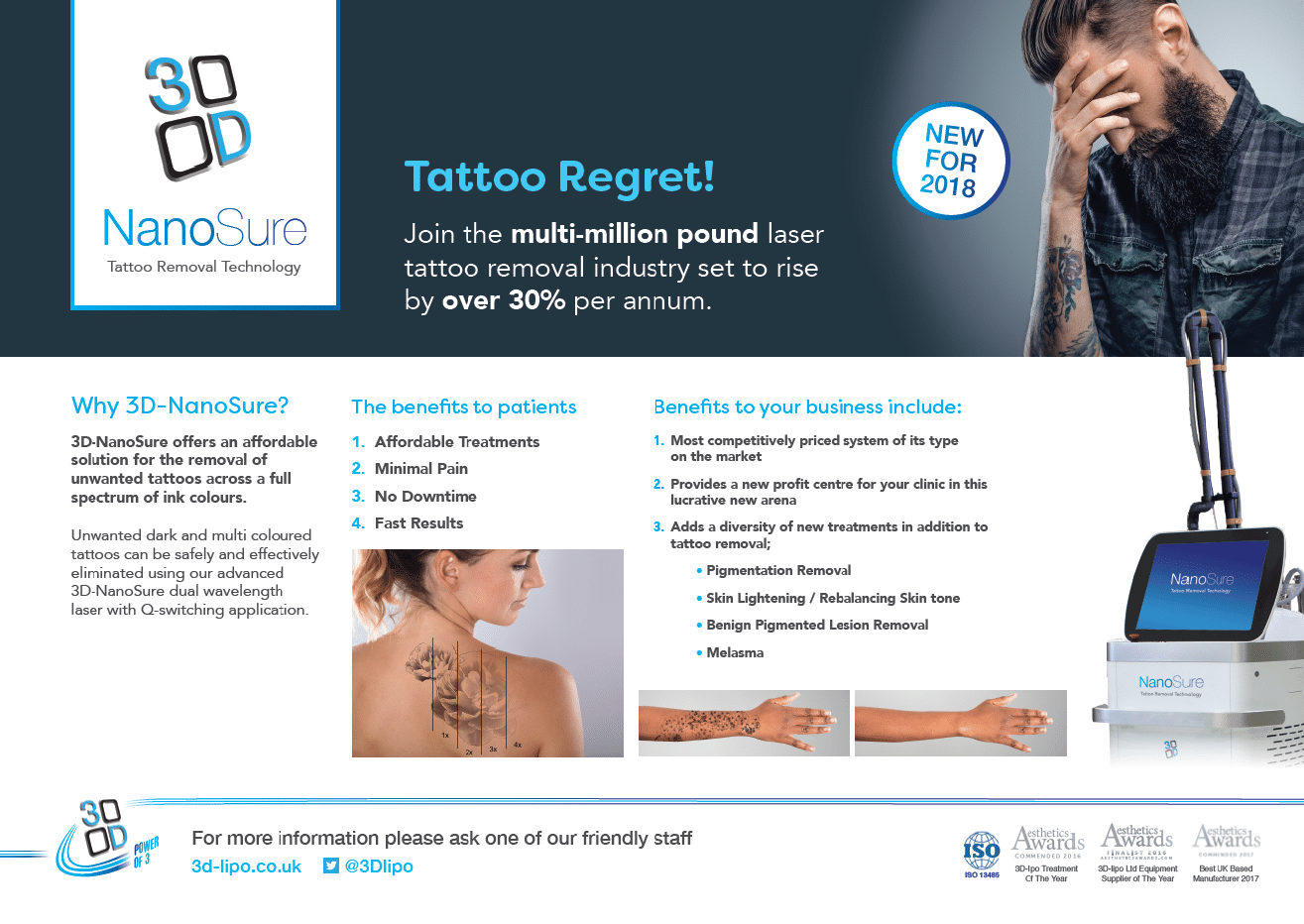 3D-lipo Announce Launch of 3D- NanoSure
Introducing the 3D-Nanosure machine, the latest addition to 3D-lipo's diverse range of multi-platform machines, offering an affordable solution for the removal of unwanted tattoos across a full spectrum of ink colours.
In Short, 3D-nanosure offers both the gold standard in dual wavelength Q-switched Nd:YAG technology whilst delivering boasting the very highest specification. This combined with the best price available on the market today, will ensure 3D-nanosure is the preferred choice for advanced tattoo removal.
Unwanted dark and multi-colour tattoos can be safely and effectively eliminated using our advanced 3D-NanoSure dual wavelength laser with Q-Switching application.
Q-Switching
The technology used for tattoo removal is called 'Q-Switching'. It is production of a specific type of quick, powerful pulse that shatters tattoo ink without harming surrounding tissue. All other types of Aesthetic Lasers will not safely and effectively remove tattoo- Q-switched lasers are the only proven method for removing tattoos safely without scarring.
Wavelengths
Different colours of tattoo ink absorb different wavelengths of energy when treating their patients. The go to for most practitioners is an Nd:YAG laser such as 3D-NanoSure, because it can produce the most versatile wavelengths. 1064 x 532 nm. The 1064mn wavelength is the powerhouse for treating black, blue and other dark in colours; the 532nm wavelength effectively removes red, orange, pink and other bright colours. These two powerful wavelengths can completely remove 95% of tattoos.
Treatment Speed
3D-NanoSure operates one of the fastest treatment speeds in the industry, speed is governed by the spot size of the laser and the Hz (shots per second) with a Hz of 10 and a spot size of 2-10mm, few come close.
Benefits to Patients:
1) Affordable Treatments
2) Minimal Pain
3) No Downtime
4) Fast Results
Benefit to Clinic Owners:
1) Most competitively priced system of its type on the market
2) Provides a new profit centre for your clinic in this lucrative new arena
Adds a diversity of new treatments in addition to tattoo removal:
1) Pigmentation Removal
2) Skin lightening/ rebalancing skin tone
3) Benign Pigmented Lesion Removal
4) Melasma
"Remember When you buy from 3D, you are buying more than just a machine, you become part of a winning brand and will share in the success of the 3D brand!"
For information please visit www.3d-lipo.co.uk or call our friendly sales team today. Sales (North) 01788 220457 or Sales (South) 01788 220459