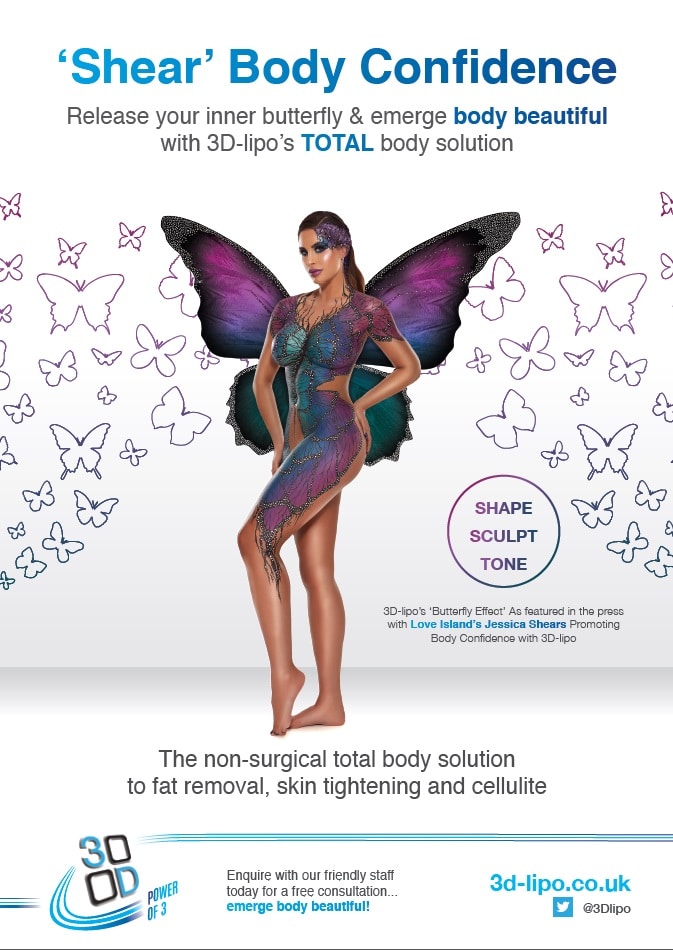 Love Island's Jessica Shears has fronted our latest campaign 'The Butterfly Effect' promoting body confidence with 3D-lipo.
Reality star, Jess Shears, stripped down to just her thong with body paint depicting a butterfly to cover her modesty, ahead of her appearance our stand at Pro Beauty this weekend. The reason why? Jess is fronting our new campaign 'The Butterfly Effect, which promotes the latest total body solution, to body hang ups, so you can Emerge Body Beautiful.
The message behind the campaign is simple, you can shed your unwanted fat, skin & cellulite and emerge body beautiful, like a caterpillar transforming into a butterfly with 3D-lipo's safe and effective non-surgical total body solution. Jess, who is pictured posing in a striking stance and staring confidently at the camera, is herself undergoing a course of 3D-lipo treatments targeting her whole body ahead of her wedding nuptials later this year. Jess said, "I love this campaign and the whole concept behind it, everyone has their hang ups about their body and 3D-lipo is providing a safe and non-surgical total body solution which can help you shape, sculpt and tone. I've had one treatment already and can already see the difference, and will continue to see change over the next three weeks. I can't wait to have my next treatment. Like a caterpillar, transforming into a butterfly, this treatment really does help you emerge body beautiful."
Adopting our 'Power of Three' philosophy, 3D-lipo truly provides a 3 dimensional approach to fat reduction, skin tightening & cellulite- with Jessica becoming a true advocate of the treatment following her fantastic results achieved. This campaign has been featured in national headlines with major press backing the campaign to promote body confidence with 3D-lipo. This has created significant brand awareness, spreading the positive message about body confidence, resulting in a high demand for treatment enquiries on our website.
It has been a pleasure to work with Jessica on this strong campaign and we are thrilled with the reaction from public, press & celebrities getting on board to share the message!
At 3D-lipo, we heavily invest in PR and advertising to raise brand awareness, resulting in our clinics reaping the rewards of this fantastic brand exposure. No other company invests in the support of their clients on a national scale like 3D-lipo!
Invest in brand that invests in you…