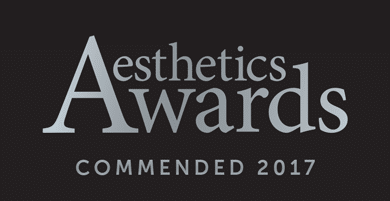 We are thrilled to announce that 3D-lipo has been successfully commended the Best UK Based Manufacturer at this year's prestigious Aesthetics Awards!
The Aesthetic Awards showcase recognition for excellence in medical aesthetics, acknowledging and rewarding practitioners, companies and organisations that endorse best practice, deliver outstanding customer service, demonstrate unprecedented skill and who uphold robust ethics.
This category showcases manufacturers who offer an up to date range of equipment and product development and can demonstrate excellent customer service and ongoing support for practitioners using their products.
What Makes 3D-lipo Commended Best UK Based Manufacturer?
'3D-lipo Ltd are the leading experts in non-surgical treatments for fat removal, skin tightening and cellulite reduction for the face and body. To date, 3D-lipo Ltd supply and supports over 700 clinics across the UK in addition to over 20 worldwide distributors. We provide not only a machine, but a multi-technology platform with a unique difference with a clear goal: to enable our clinics to ensure best patient outcomes by providing the ultimate toolkit to tailor treatment plans to each client specifically depending on their goals whether it be for overall circumference reduction, spot fat reduction, skin tightening, or cellulite reduction. The foundation of the company's success is the amazing results achieved by the 3D-lipo systems, however this is then echoed and enhanced by our unique support mechanisms ensuring that each of our clinics are wholly supported by the 3D-lipo brand in order to build on the success of their clinic. We provide a unique PR support campaign, heavily investing in national brand awareness which in turn undoubtedly raises demand for 3D-lipo treatments across the UK, the clear goal of this is to ensure that our clinics reap the rewards of this treatment demand by linking and referring any PR coverage back to the clinic finder on our website where clients looking for treatments have an instant, easy access to the nearest clinic in their area by simply entering their postcode. This ensures that treatment enquiries are directly filtered through to our clinics ensuring that they reap the rewards of the 3D-lipo brand success. We also provide the own point of sale marketing materials which help and support clinics by providing monthly advertising materials/ point of sale material etc. to ensure that clinics have all the required marketing materials to help them promote their treatments effectively to customers. In addition to business and marketing support, 3D-lipo also prides itself on technical and training support, we have a dedicated training team on hand 9-5 Monday to Friday to welcome and resolve any treatment/ training queries in addition to running regular FREE 'refresher training' dates for existing therapists to refresh their theory and practical knowledge. Throughout 2017 we have also heavily invested in our customer support and technical engineering department, taking on 4 new staff members to ensure that any technical queries are effectively dealt with over the phone and we can send out in house engineers out in the field to effectively resolve any machine queries when a call out is required. No other company provides such a full and thorough support system backing the clinic with technical support, marketing, brand building, training protocols etc. We are not only an equipment manufacturer, but a company that provides full backing and support to our clients throughout.'
'Remember, when you buy from 3D-lipo, you are buying more than just a machine, you become part of a winning team and will share in the success of the 3D-lipo Brand name'- Join the winning brand that invests in you!
We are extremely proud to have been Commended for Best British Based Manufacturer, and we would like to thank everyone that voted for us.
From Roy & The Team at 3D-lipo Ltd